The project received a timely boost in December last year when Angus Council received a Nature Restoration Fund award of £22,724 from Nature Scot to carry out additional daylighting at the Den.
Brechin Den is an important open space located near the town centre, next to the cemetery.
The Den was underused, unloved and frequently wet underfoot, and so the council set to work with a plan to make environmental improvements by carrying out biodiversity enhancement works. The ambition is to improve opportunities for wildlife in the Den and, at the same time, allow people to enjoy the open space.
The project made best use of a Nature Restoration Fund direct award in 2021/22 and has included the introduction of a footpath link, a seating area and an interpretation board, which will be put in place shortly.
Invasive ornamental plant species were removed and a range of willows, wet meadow mixtures and wetland plants have been planted in the Den. Together, they will help to and will support a wide range of wildlife and in particular bird and bat species. The area has already seen an increased number of bees and Dippers.
A section of the Caldhame Burn was daylighted in 2021. Daylighting means to open up buried or covered watercourses and bringing them into the open air. A collapse of the ancient stone culvert further upstream led to a further 23m section of the burn being brought above ground, while naturalising the environment on its way through the open space.
A series of small in-stream stepped structures, made of natural stone, have been introduced to overcome the change in levels. These new features have the added benefit of creating more habitat for freshwater invertebrates.
Earlier this year, Angus Council's efforts to give nature space to breathe have received a further £150,000 boost from the Scottish Government's Nature Restoration Fund. The money will help to deliver projects that are designed to support the restoration of nature, safeguard wildlife and tackle causes of biodiversity loss, notably the loss of natural habitat and climate change.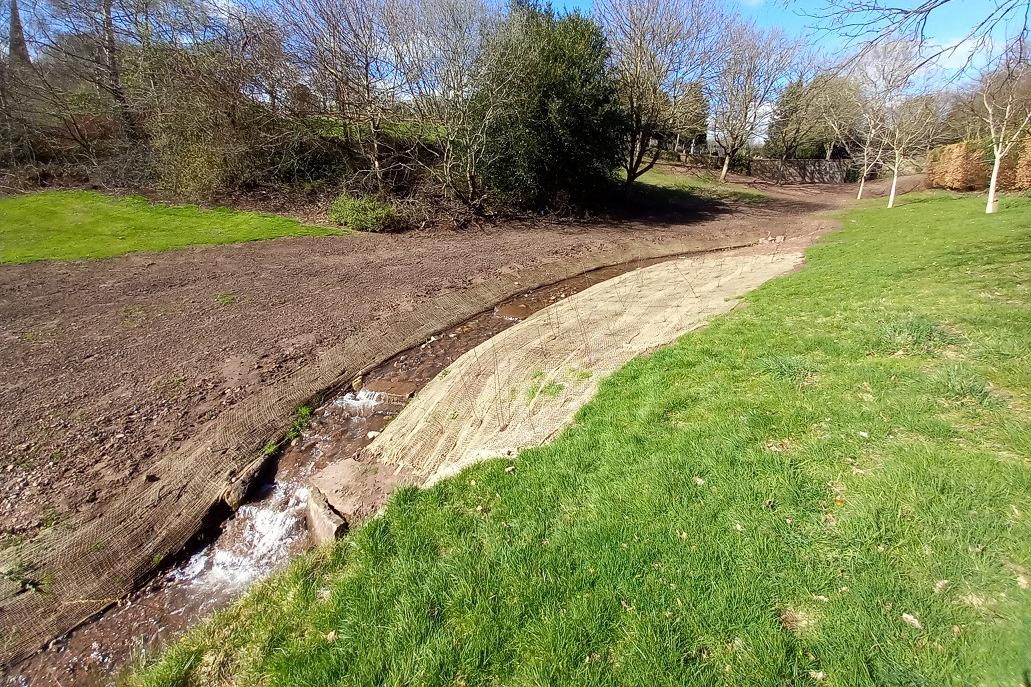 ​The project made best use of a Nature Restoration Fund.