I've been in love with the theatre from a young age. I suppose my first foray into live theatre was being taken to the pantomime as a wee girl. It was a Christmas treat but something gripped me back then, something that was to develop into a deep love for the performing arts.
I remember seeing my first ever stage musical. It was a touring production of the west-end hit show Evita at Glasgow's Theatre Royal. I was in my early teens. Featuring classic songs such as Another Suitcase, Another Hall, Oh What a Circus and Don't Cry for Me Argentina, that show is understandably popular, but it was about more than the music. I was spellbound. I remember the buzz in the theatre as we took our seats, the stage pre-set, and above all, the mis-matched hum of the orchestra warming up from the pit below the stage. A sound that gives me butterflies in my stomach to this day.
In my heyday, I was lucky enough to have a go at treading the boards and appeared in a few shows – 42ndStreet, South Pacific, Oliver! and my all-time favourite musical of all time- Chess. Nowadays I am a mere spectator but as a regular theatregoer, the excitement of that half hour before the curtain goes up is still there.
Since the pandemic hit and our theatres went dark during the subsequent lockdowns, it broke my heart that people couldn't get to enjoy live entertainment. It also upset me that performers, musicians, stage crew and indeed every single person that works in the arts right down to the front of house staff were unable to work. Entertainment and socialising aside, Covid has had an impact on everyone's lives, and it certainly wreaked havoc in mine. But, it feels like time to get right back into the groove now. Just about everything is open for business again and our venues are back in operation. I can't tell you how much I've enjoyed being back in the stalls again.
On my first trip back to the theatre, I didn't expect it to be so busy. Wrong! The place was packed, and you could feel the energy from the audience who were clearly buzzing to be out at a show. It was obvious how much we had all missed it and the rapturous applause and standing ovation at the end was proof of how happy we were to be back.
Having been starved of a social life for so long, I'm constantly checking to see what I can book tickets for. My current wish list is pretty hefty, but I've managed to tick off a few - as much as budget allowed. Recently, I was lucky to see the new stage version of Moulin Rouge! and it was worth the wait.
If you're planning a trip to London this year, the choice of big ticket shows you can see is fantastic and if you've not already seen Hamilton or Moulin Rouge on stage then those are my top two recommendations if you're in the big smoke. It's been a while since I felt truly blown away by a performance and both of these shows delivered something truly spectacular. You can still catch many of the long players in the West End too. Les Miserables, Phantom of the Opera, Mamma Mia! and Wicked have been running for ages but are still hugely popular. I won't tell you the number of times I've seen Phantom!
You can also keep up to date with all the touring productions at www.musicalsontour.co.uk Joseph and the Amazing Technicolour Dreamcoat, Dreamgirls, Footloose, Sister Act and South Pacific are all heading to Scotland.
And, if you fancy a night out closer to home, you don't have to venture too far to enjoy some great theatre. Check out the 'what's on' guides for all the shows on your doorstep. Webster Memorial Theatre in Arbroath has some cracking stuff lined up for the rest of the year and we'll be keeping you up to date with all the shows that are going to be gracing that stage. Just keep your eye on The Guide every week in ACP!
For me, there's no better feeling than the high I get coming out of a theatre, listening to everyone's chatter about the show, singing the songs they've just heard. Everyone is happy because the show has allowed them to escape for a couple of hours. I am no different.
If you're new to theatre and have never experienced a live show, book something and go. I hope you are able to get the same pleasure from it that I do. I'm not saying it will change your life, but it just might be the joy you didn't know you needed.
The characters of Eva Peron and Che Guevara in Evita gave it to me back in the 80s and now I couldn't imagine my life without the magic of the theatre.
(And I still love a cheeky wee trip to the panto – oh yes I do!)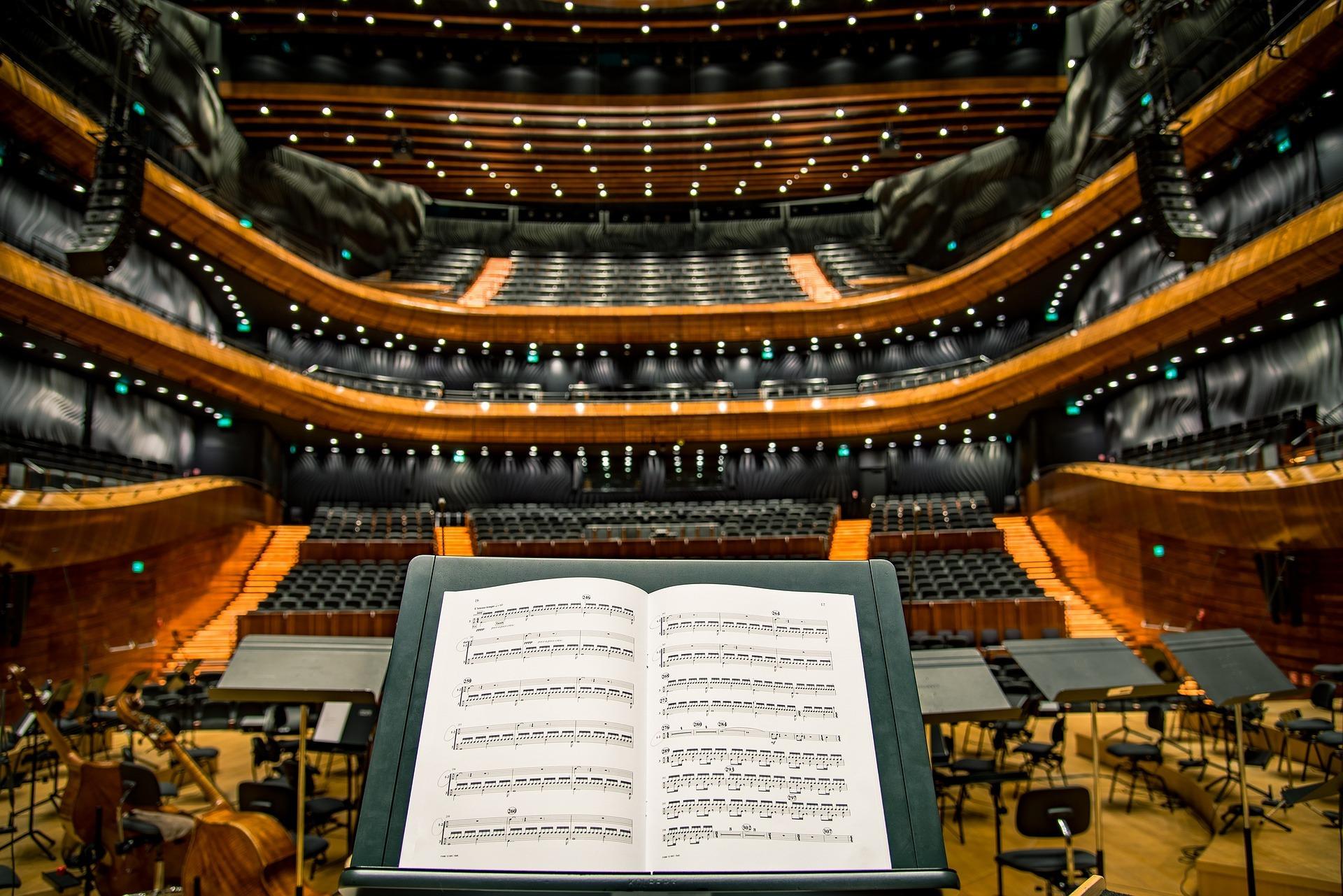 Curtain up...live music and theatre were to become one of Deborah's life passions - could they be yours too?