The track was hosting its second Friday night meeting of the season and, whilst the weather had been bright and sunny for most of the day, there was a heavy rain shower a couple of hours prior to the start.
Conditions started to improve but ominous heavy clouds passed over from time to time with one deciding to drop its contents onto the surface just as the saloon drivers took to the track.
There was one rollover - ministox driver Scott Allardyce coming to grief at the end of their opening heat.
In the prostock basics there was a five car shunt which left three cars in a sorry state.
Gail Paton made her prostock basic debut whilst Lee Burden was having his first saloon outing.
Amongst those racing in the saloons were Brechin trio Barry Russell, Cameron Milne and Logan Bruce.
Russell was given a lap of honour to celebrate his recent European Championship success at Taunton before the rain started.
Russell had to be content with the runner up spot in the opening heat with Bruce fifth but Milne had to retire when his car cut out.
Heat two saw Bruce and Milne run in the top places for most of the race and when Bruce went on to win it was only by a car length with Milne third and Russell seventh after a spin.
Russell was in determined mood during the final and whilst Bruce led for a few laps, there was to be no stopping Russell who went through to win with Bruce fifth.
Keilan and Colin Ogilvie, Brechin, Jamie Reid, Brechin, George Hendry, Brechin, and Martin Joy, Monifieth were all out in action later in the night.
In heat one Hendry was caught up in a five car shunt which saw K Ogilvie disqualified for contact.
Joy ended up in ninth place and just ahead of C Ogilvie whilst in heat two Joy went through to win heat two with C Ogilvie eighth.
The final was quick with quite a bit if dicing throughout the field with Joy coming home in fourth with Reid seventh and C Ogilvie ninth.
Rhys Anderson, Brechin, was the only local driver in the ORCi ministox with a big turn out of cars at the track.
Anderson finished in sixth place in the opening heat but after that a heavy rain shower made things difficult after that.
Anderson added a seventh to heat two.
In the race for the Ramsay Shield final, Anderson brought his car home in tenth place.
The racing reverts back to Saturday this weekend and it look as if it is going to be another busy evening with racers again expected to travel from across Scotland to compete.
The saloons are back in action with the classic hot rods having their first outing of the season at the Racewall.
Joining them will be the prostocks, the prostock basics as well as the micro F2 drivers.
The meeting will start at 5.50pm and advance tickets for this meeting as still available.
For further information before travelling please visit racewall.co.uk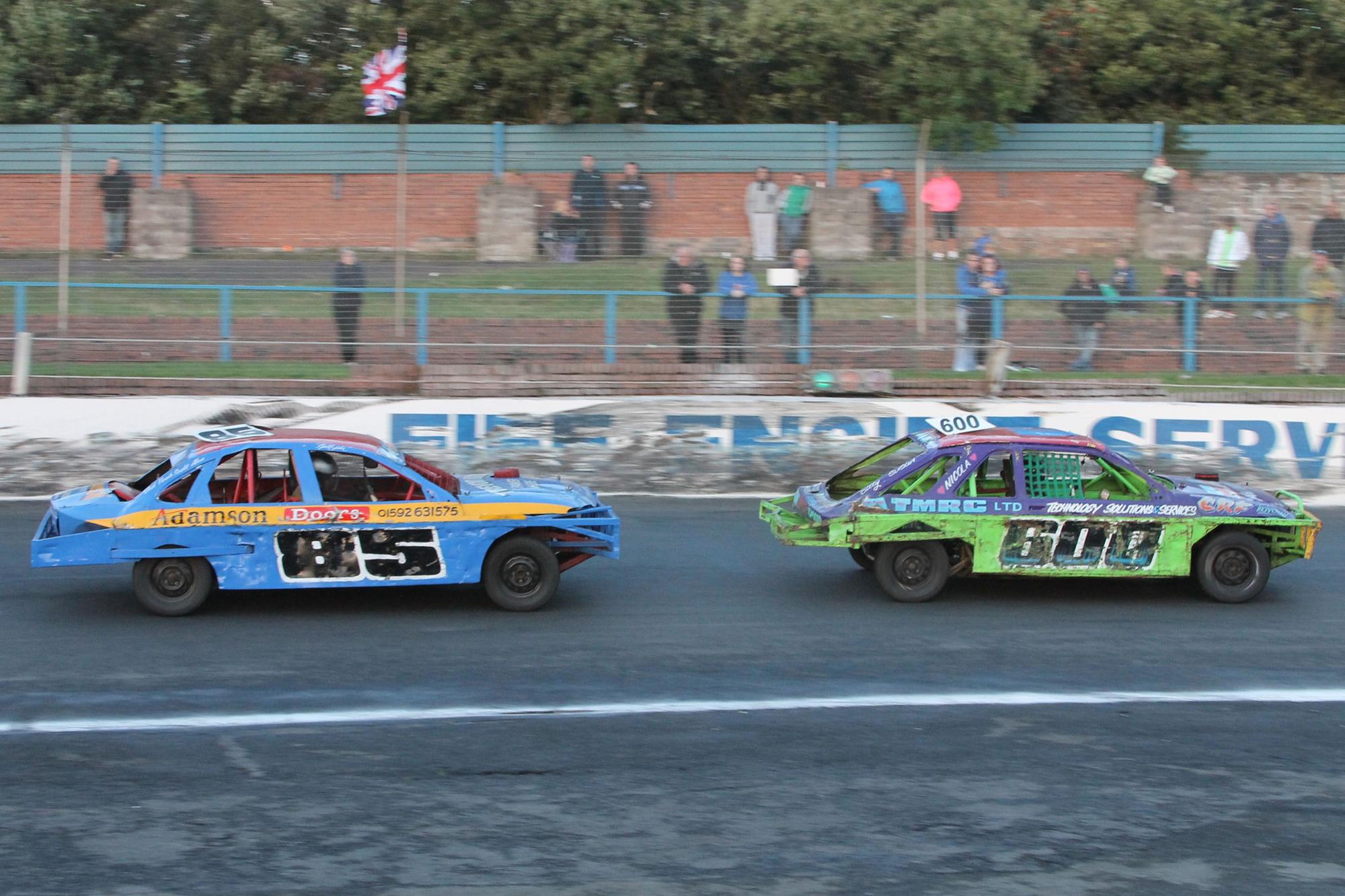 Barry Russell, right, was given a lap of honour before the meeting started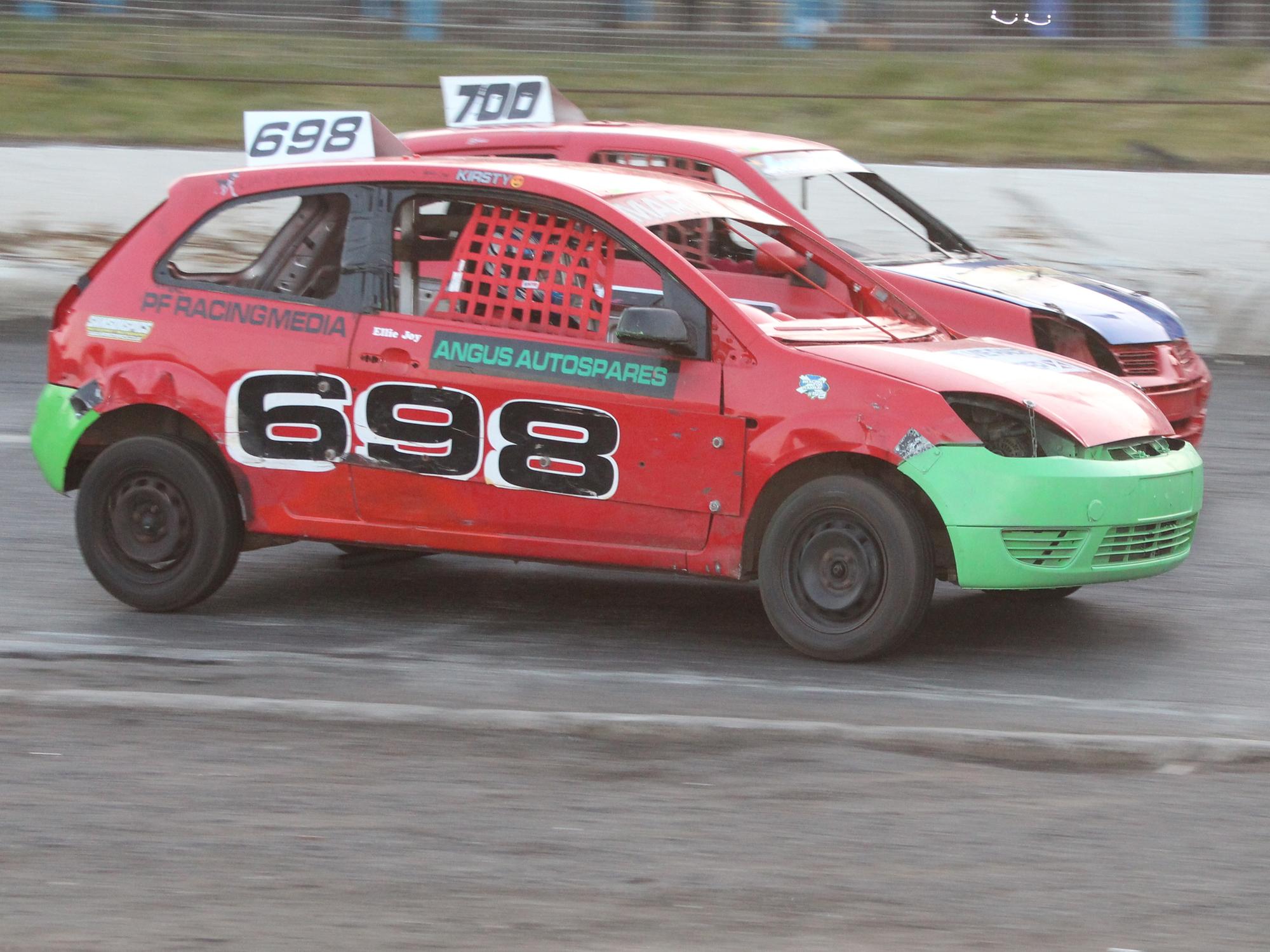 Martin Joy in his prostock basic