Picture this: Monday morning looms but as you stroll into work with your dog, you're greeted by sympathetic lighting and a wellness room.
You settle your beloved pooch into its bed under your desk while contemplating, amid the greenery, whether to spend your lunchtime in the library area or catching up on the cricket.
Far-fetched? Not according to commercial design and build fit out company, Thirdway. Here are its five hottest workplace trends for 2023:
1 Mood-matching lighting
Gone are glaring strip lights. This year's workplace lighting is all about mood, with the Thirdway team seeing an increase in clients using feature lighting to create a particular ambience in different areas.
From warm spots with glowing metallic surrounds to daylight ceiling lights, companies are matching lighting to the moods they want to create.
2 Health and well-being stations
Clients now regularly ask Thirdway for advice on delivering mothers' rooms, non-denominational prayer rooms and wellness rooms, to support a diverse workforce.
Mothers' rooms provide a private, calm space in which mums can feed or pump milk, and come with a comfortable chair, sink, fridge, power outlets and lockable door.
Prayer rooms also need to provide comfortable seating and a sink, plus accessible floor space, storage space, adjustable lighting and signs showing north, south, east, west and southeast.
They should be able to accommodate at least two people and be non-denominational, to be accessible to people of all faiths, no faith or employees who simply want to contemplate or rest.
3 Leisure spaces
These range from larger breakout areas with wine/beer fridges to peaceful library areas and dedicated spaces for watching major sporting events, news highlights and more.
4 Green takes centre stage
In terms of colour, 2023 is all about green and nature is coming into the workplace in a big way.
Plants of all shapes and sizes will further the emphasis on green and greenery, while supporting mental well-being in the workplace.
5 Pets at work
A fifth of Thirdway's clients take their dogs to work.
Dedicated dog spaces such as under-desk dog beds are going to be big business in 2023.
"Pets can work wonders when it comes to improving both mental and physical well-being, said Rob Walsh, creative director, Thirdway, thirdway.com.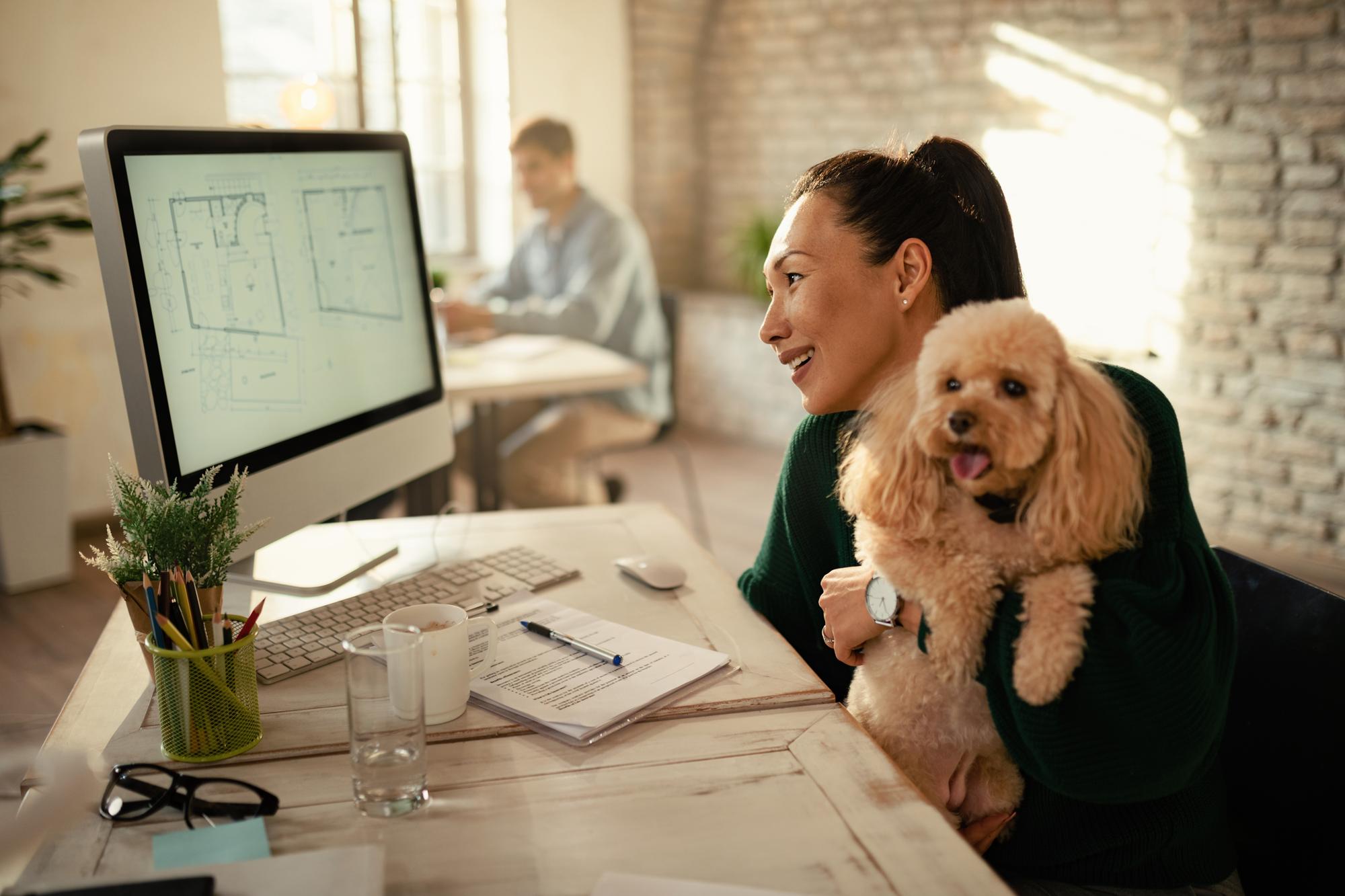 Dedicated dog spaces in the workplace could be big business in 2023 (photo: Adobe)