As many as 15-18,000 young women left home for the first time, aged 17-24, to fell trees with an axe and saw for the war effort. Doing what was thought to be 'a man's job', these pioneering women brought gender stereotypes crashing down.
In May 1942 the Scottish Women's Timber Corps established a training camp in Shandford Lodge near Brechin.
The government at first refused to employ 'the fairer sex,' who they thought would be unable to cope with the tough work. Instead they tried to employ male British prisoners, male dockyard workers, male students and even school boys. But thousands of members of the Women's Land Army wanted to do their bit for the war like their brothers and the government's position became untenable.
Author Joanna Foat spent two years interviewing 60 of these remarkable women, who became affectionately known as Lumberjills. While many of these women have now passed away, their stories are immortalised in Joanna's book Lumberjills Britain's Forgotten Army, published by The History Press in 2019.
She said: "With their 80th anniversary, I hope to inspire women of all ages with the strength, courage and determination of the Lumberjills. Out in the forests away from the restrictions imposed on women by society, they realised they could sit astride a tree, smoke a pipe and fell ten tonne trees just like the men, if they wanted to."
Joanna added: 'Many of the lumberjills I met were still upset that they remained a footnote to the Women's Land Army, so I wanted to make sure they were remembered in history. Now their incredible feats of physical and mental endurance inspire women today, especially female forestry workers and arborists from across the world. Given the freedom and opportunity to work together in sisterhood out in the forest, naturally the lumberjills were a huge success.'
Lumberjills Britain's Forgotten Army by Joanna Foat is published by the History Press. For further information visit www.thelumberjills.uk or https://www.thehistorypress.co.uk/publication/lumberjills/9780750990905/
Britain was the largest timber importing nation in the world in 1939, importing 96 per cent of its wood. With the advent of war, home grown timber supplies became vital. Britain needed to produce millions of tonnes of wood for pit props, railway sleepers, telegraph poles, gun butts, ships, aircraft, as well as packaging boxes for bombs and army supplies. Thousands of forestry workers were urgently required.
The term 'Lumberjills' was coined on 18th April 1942, when the Northern Daily Mail reported 25 Lancashire girls, former clerical workers, typists, and hairdressers, left Manchester for a timber training camp in the South-East. These young women had no idea what was ahead of them when the sign up papers landed on the doormat. The hair dressers literally swapped scissors and comb for a 7lb axe and a six-foot crosscut saw.
In April 1942, Women's Timber Corps training camps were set up across England: Culford, near Bury St. Edmonds, in Suffolk, and the Royal Ordinance Factory hostel near Wetherby in Yorkshire. A month later in May 1942 the Scottish Women Timber Corps established training camps: Shandford Lodge near Brechin in Angus, and Park House, Drumoak in Aberdeenshire. Hundreds of young women were trained at each camp in four lines of work: felling, haulage, sawmilling and measuring timber.
Many women rivalled the men in their strength and skill. One Scottish woman, called Bella Nolan, challenged her foreman to a felling dual when he said he didn't think much of the women. Each took one end of the cross cut saw and together they felled 120 trees in a day.
At the end of the war the Women's Timber Corps received no recognition, grants or gratuities and the director of the Women's Land Army, Lady Gertrude Denman resigned in protest. They were not allowed to keep their uniforms or attend Remembrance Day parades, because they were not part of the fighting forces. The women went back into traditional roles of clerical and shop work, teaching, domestic service or got married.
More than 60 years later, when most of the women were in their 80's, the prime minister, then Gordon Brown, finally presented them with a badge. But to their disappointment the badge bore a wheatsheaf, the emblem of the Women's Land Army, not a pine tree or a pair of crossed axes.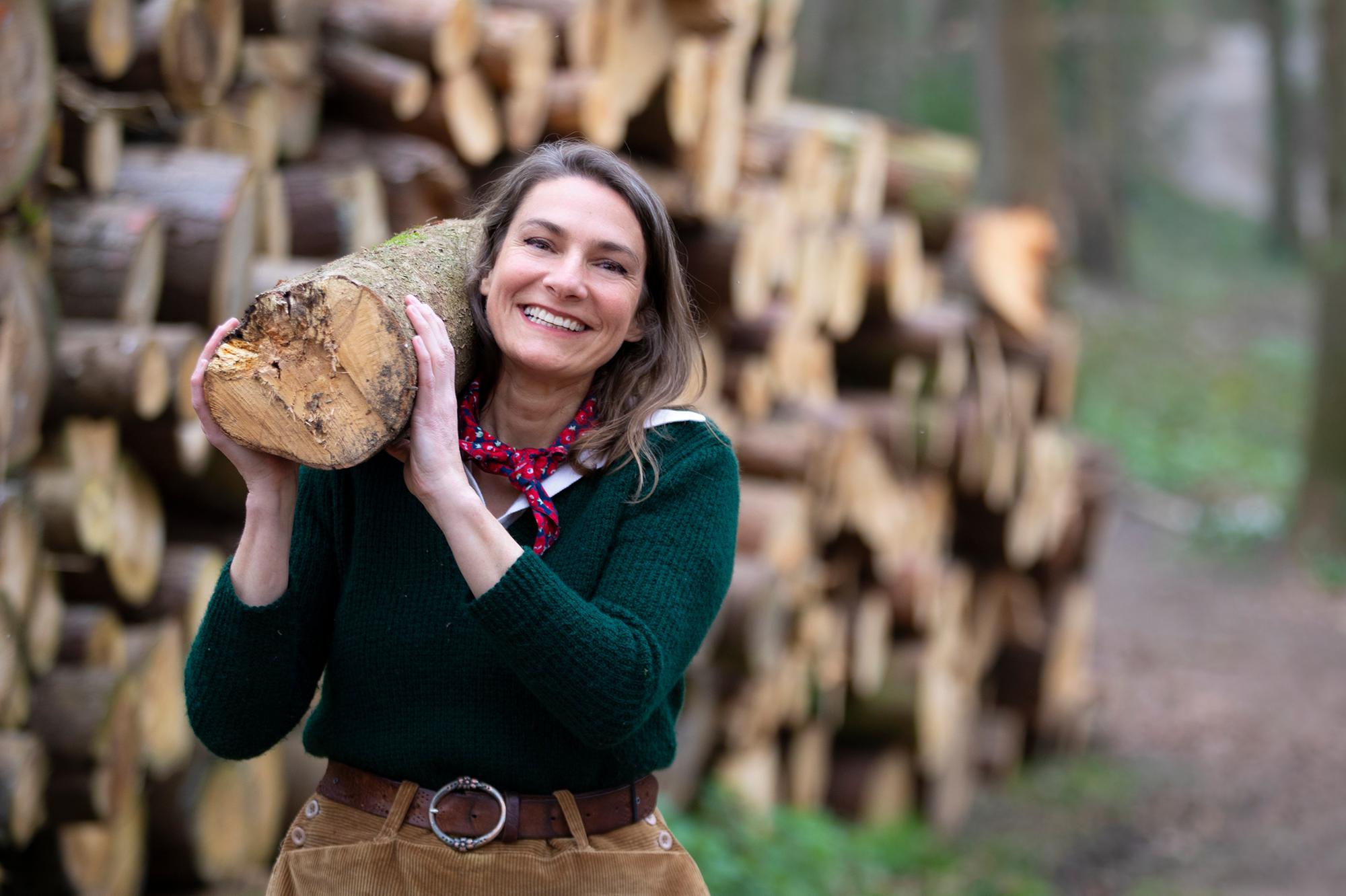 Joanna Foat.