The 12 murals have been created over the last few years in an initiative to beautify the town's walls involving Forfar in Flower, Forfar Community Council, Forfar Action Network, Angus Youth Expressive Arts, the NHS Innovation Fund, the Scottish Government Town Centre Regeneration scheme and EventScotland co-ordinated by Councillor Lynne Devine.
As well as making the town more attractive and illustrating some of its heritage and natural highlights, Councillor Devine had the idea earlier this year that they would also make a good new heritage and nature walking trail.
To that end, she commissioned a leaflet designed by Irene Golden detailing them, with photos by Ian Bain whose photo Haybales at Sunset on the wall of the Thistle Bar comprises one of the murals.
By coincidence local communications professional Alan Morrison also spotted the potential for the murals as a walking trail for locals and visitors and planned to add a list of them to Google Maps, for which he is a volunteer Local Guide.
When Alan started to collate information about the murals in October, he spotted that Councillor Devine was at the centre of the community project and contacted her. They soon agreed to work together to compile the information and pictures necessary for Visit Angus to add the murals as a new heritage walking trail to those already on its website and add the murals and a map showing them all to Google Maps.
With the help of Visit Angus, the web page went live. You can view it at visitangus.com/forfarmuralstrail
It's now hoped that come the start of the new tourist season the 2.2-mile trail will help draw visitors to Forfar and encourage them to stay longer, while also providing an interesting and educational route for locals keen to stay healthy through walks.
Councillor Devine said: "Without Alan's generous help it would have remained a leaflet. Now it's digital as well as in print - there are leaflets around the town."
Alan added: "It's been a pleasure to work with Lynne on this project and use my skills for the benefit of the community I've been part of for 22 years."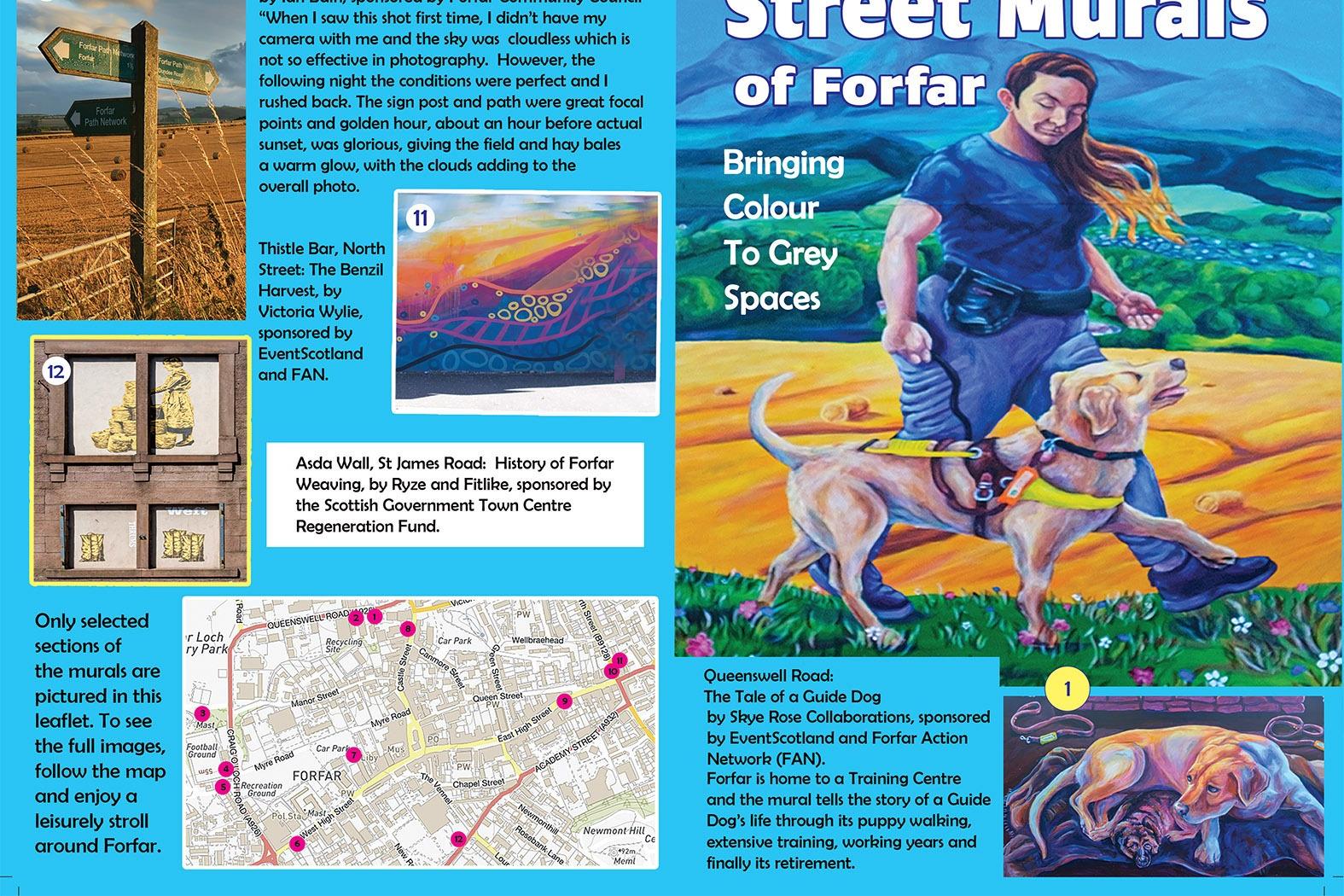 The walking trail leaflet produced by the team.