There is something about the rugged scenery, quirky 17th century cottages and clear east coast light that draws artists to the village providing a basis for inspiration that sees extraordinary work of all mediums being generated.
This year's festival will see artists, known and loved by regular visitors, returning after the pandemic to display their work along with a number of new additions.
These include two art and design graduates of Duncan of Jordanstone College in Dundee.
Kate Cunningham lives within a stone's throw of the village in a cottage that doubles up as home and studio where she creates paintings inspired by the atmospheric and ephemeral qualities of clouds, land and sea. Vast skies are a well-recognised feature of her dramatic, grand scale work.
Her talents are widely recognised by both private collectors and industry including Gordon and Macphail who commissioned Kate to complete a painting in conjunction with the release of 75-year-old bottling of Mortlach Single Malt Whisky.
The painting was then exhibited in the Royal Opera House in London and printed in a book written for exclusive inclusion with each bottle.
Sheila Roussel designs and makes stunning jewellery from her studio in Birkhill which are produced for private commissions, exhibitions and contemporary gift shops.
Sheila's designs evolve from her immersion in making collages, sketching, photography and experimentation with a range of techniques and materials.
From these initial ideas Sheila produces her distinctive jewellery using textured sterling silver, hand-patterned aluminium and semi-precious beads.
These pieces are used either individually or combined with each other to create unique collections.
Designs are influenced by the beauty of natural forms, vibrant colours and delicate structures.
An ongoing collection of heirloom keepsakes, trinkets and charms adds further inspiration to Sheila's work.
Sheila's background in community, learning and development supports her work with the V&A in Dundee as a freelance designer, a craft and jewellery tutor with Fairmuir Adult Association, Dundee and with Broughty Ferry Education and Recreation Association tutoring 'jewellery for beginners' classes.
Both artists have gained an enthusiastic following with their work being exhibited and available widely in across Scotland.
Their shared love of art has led them to become inspiring teachers offering tuition, classes and workshops at their individual studios.
Both artists are looking forward to being part of this year's exciting Auchmithie festival and will hopefully become regular exhibitors.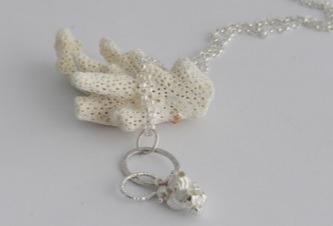 An example of silverwork by Sheila Roussel.