25-year-old Hailey Duff took home the joint top spot in the Sport category, sponsored by sportsscotland. Curling superstar Hailey was part of the British women's curling team, helping to win gold at the 2022 Beijing Winter Olympics.
Hailey and the squad made history by becoming the first women's curling team to win an Olympic gold since 2002.
She currently represents both Forfar Curling Club and Curl Aberdeen.
James Anderson, 18, was announced as the winner in the Volunteering category. The young campaigner was commended for working tirelessly to help both people in his own neighbourhood and around the world.
James has worked alongside Enable Scotland - a charity fighting to amplify the voices of people with learning disabilities - for years, delivering disability and anti-bullying workshops to schools and youth organisations. His activism has taken him to Geneva, where he delivered a speech at a United Nations conference.
As well as his work with Enable, James is also dedicated to volunteering in his local area and has given up his own time to maintaining public toilets, doing odd jobs for the elderly and volunteering at local events. The selfless teenager even has a team of 20 volunteers to litter pick in local areas - funding a litter cart with his own money.
Now in its sixteenth year, the annual awards highlight the triumphs of young people in 13 different categories – from sport and the environment to enterprise and volunteering. They shine a light on the invaluable contributions made by remarkable young people across Scotland.
Commenting on her win, Hailey said: "I was so shocked to win - it's a complete honour.
"I got into curling because I genuinely love it and I never thought something like this could happen."
James added: "I am absolutely over the moon, and I wouldn't have been able to do any of this without the help of our sponsors, community group, schools, and charities.
"I hope the publicity from the award will help bring even more donations and visitors to the community group."
Kirsten Urquhart, Chief Executive of Young Scot, said: "We've been completely inspired by the stories of our nominees, finalists and winners, who are all doing extraordinary things to improve the lives of others.
"We've kept the spirit of the Sunday Mail Young Scot Awards alive for the past two years by hosting fantastic virtual events, but it's brilliant to have the awards back in all of their glory this year to celebrate Scotland's young people, who do so much to inspire, support and motivate those around them."
Award host, Gemma Cairney, said: "It was an absolute honour to host this year's Sunday Mail Young Scot Awards. I was inspired by listening to the winners' stories and their commitment to helping others in their community is truly remarkable. Congratulations to our winners and finalists!"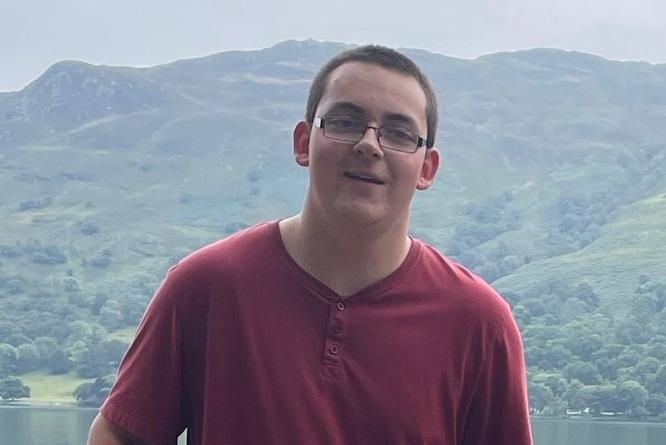 James Anderson - a worthy winner
Hailey Duff with her gold medal.