'Strathmore B-Lines - People & Pollinators in Strathmore has been awarded £176,366 by the National Lottery Heritage Fund with match funding from The Gannochy Trust.
The scheme is a partnership between Angus Council, the River South Esk Catchment Partnership and other landowners, Perth & Kinross Council and the Tayside Biodiversity Partnership which will work to restore 20 hectares of wildflower-rich grasslands and other nectar-rich habitats across 20 sites in the Strathmore Valley.
The two-year project, which began last month, will focus on combating the decline of pollinating insects from Dunkeld, in Perth & Kinross, to Montrose with benfits to other Angus sites at Brechin and Kirriemuir.
The Strathmore Valley currently supports a variety of fragmented pollinator habitats which cross some of the most agriculturally intensive land in Scotland. This project will reconnect habitats, helping pollinating insects to move across the landscape and adapt to a changing environment.
These habitat 'stepping-stones will' support the recovery of threatened species including the Bilberry Bumblebee and the Small Blue Butterfly, while helping to restore abundant populations of insects that are essential for pollinating crops and wildflowers.
The project will benefit local communities by providing opportunities to connect with nature. People will be able to get involved through practical conservation volunteering, pollinator identification and monitoring workshops and community events.
Kelly Ann Dempsey, Angus Council's environment and climate change team leader, said: "Angus Council is thrilled that B-lines' work will now include Strathmore. There are so many opportunities to engage with communities and land managers in rural and urban settings , helping to create important pollinator networks across our varied countryside".
The project will also provide education opportunities by engaging with local schools and providing habitat creation and management advice to land managers, farmers, and local authorities.
Buglife Conservation Officer Claire Pumfrey added: "We are delighted to have been awarded this grant from the National Lottery Heritage Fund and the Gannochy Trust which will enable us to continue delivering our B-lines work within Scotland. We are currently facing a biodiversity crisis; we have lost over 97% of our wildflower meadows since the 1930s which has resulted in a serious decline in pollinator insects.
"Through working in partnership with landowners, local authorities and communities, this exciting project will increase the area of flower-rich habitats within the Strathmore valley, restoring habitat connectivity for pollinators and other wildlife, whilst creating healthier and more vibrant environments for people to enjoy too."
B-Lines presents an opportunity to create a network of wildflower-rich areas across Scotland providing essential routes for pollinators to use.
The B-Lines network in Scotland identifies key areas to restore and create new wildflower-rich meadows, important grassland verges and pollinator friendly gardens. B-Lines can be adopted by farmers and landowners, local authorities and communities across all of Scotland; everyone who manages land across Scotland can help to restore our pollinator populations.
If your farm, garden, local park or other land you manage is on a B-Line and you would like to know more or get involved, please contact Buglife Scotland.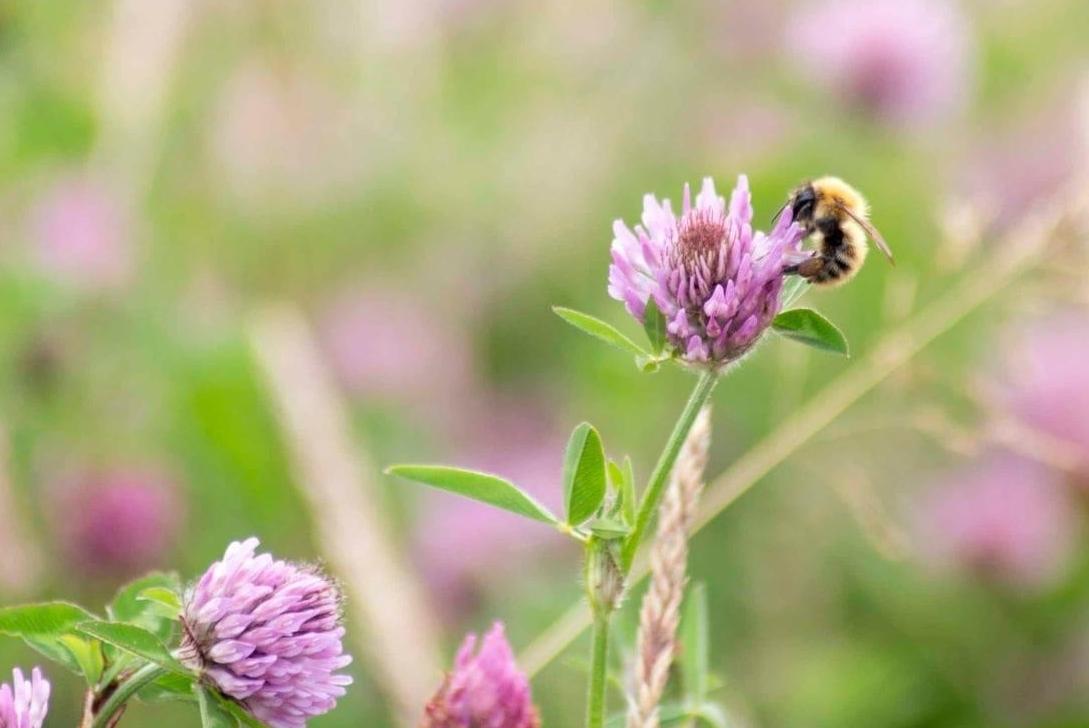 The project aims to reconnect habitats across the Strathmore area to form 'stepping stones' for pollinating insects. (Claire Pumfrey).