The 200-year-old Brackny Pedestrian Bridge, at Kirkton of Glenisla, was closed last year after an engineer's survey found that supports for its decking were rotten and needed to be replaced.
But almost £15,000 of funding has meant that the timber joists have been replaced and the wrought iron structure is safe and open to walkers once more.
Community support had a huge part to play in securing the funding, which was awarded by Kirriemuir Landward West Community Grant Scheme (KLWCGS) and by Avondale Environmental as part of the NPL Group through the Scottish Landfill Communities Fund.
For the duration of the closure, the Cateran Trail, along which it lies, has been diverted via Whitehills Farm, which includes some road walking not ideal for visitors.
The Perth and Kinross Countryside Trust (PKCT), which manages and maintains the Cateran Trail, has said that it will be open in time for the Cateran UltraMarathon and the annual Cateran Yomp charity fundraising challenge.
Further restoration work on the structure is still required, however.
Andy Barrie, PKCT's strategic routes officer, who led the project, said: "Having the Glenisla bridge closed has been a great hindrance to the enjoyment of the Cateran Trail by residents and visitors, so it is great to be able to get the timber decking replaced.
"The bridge itself was designed by John Justice of Dundee, is nearly 200 years old and is considered one of the oldest bridges of its kind in Europe. Restoration of the metal work itself will likely be much more expensive, so we are working with the community on options to find these funds to ensure the longevity of the bridge.
"We are confident that once complete the restored bridge will continue to provide future generations with access to the stunning local countryside."
Roger Clegg, KLWCGS chairman, said: "The trustees have been pleased to assist in this stage of the bridge restoration work and it is very good news that the bridge will open for the Yomp as well as local walkers and visitors over the busy summer period."
KLWCGS distributes funds from Tullymurdoch Farm operators for community benefit within the KLW Community Council area whose purposes include the advancement of citizenship of community development; the advancement of health and wellbeing in both young people and adults; the advancement of the arts, heritage, culture and science' the promotion of equality and diversity' or the advancement of environmental protection or improvement.​​​​​​​​​​​​​​​​​​​​​​​​​​​​​​​​​​​​​​​​​​​​​​​​​​​​​​​​​​​​​​​​​​​​​​​​​​​​​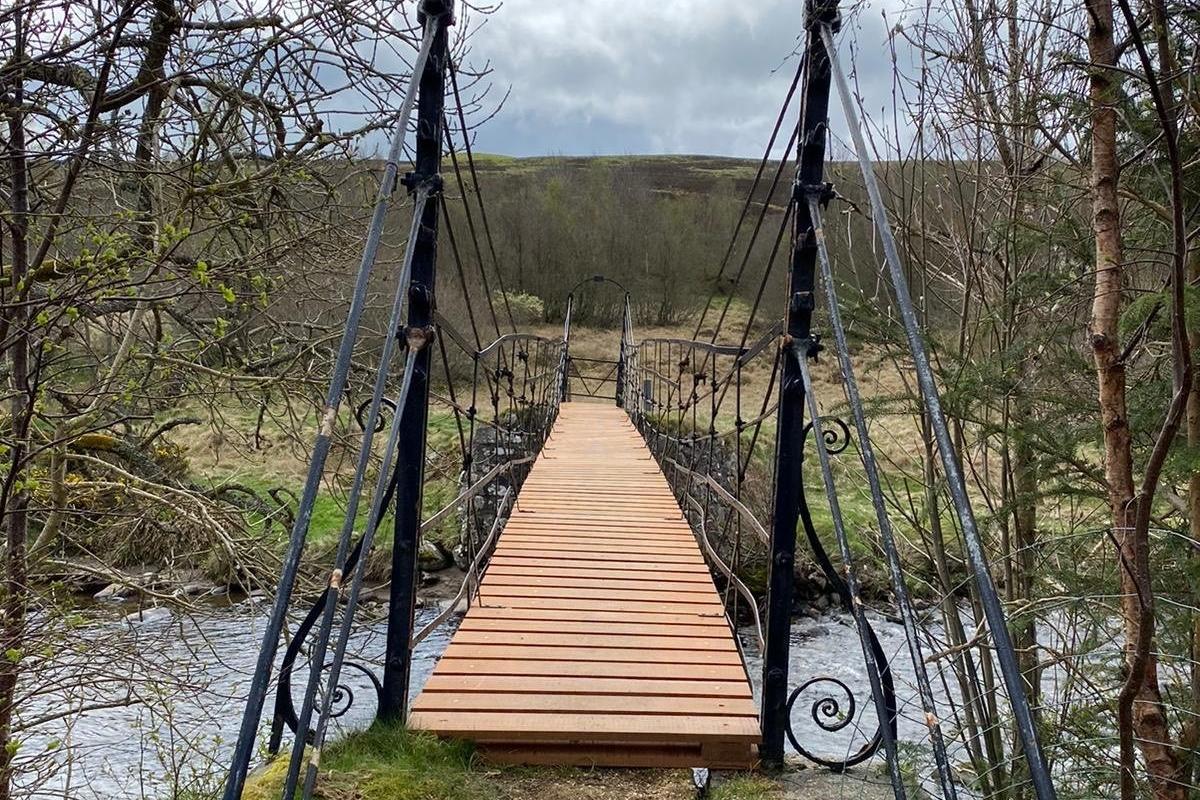 The bridge, on the Cateran Trail, has been closed for months.