PC Barrie Taylor from the Community Policing team in Angus says they are keeping a close eye on both Lintrathen and Backwater reservoirs, which have been used in the past by wild campers, and will crack down on anyone found to be behaving irresponsibly.
He said: "Now that summer has arrived, the public are welcomed and encouraged to explore what the local countryside has to offer. There is an abundance of walking routes with stunning scenery, and other more energetic activities to be enjoyed in Angus.
"Unfortunately, there have been reports whereby the minority spoil it for all others by leaving waste, or the remnants of a wild campsite behind, causing a blot on the landscape. Local agencies and volunteers work tirelessly to maintain these areas and will continue to monitor and report any such matters. P olice work closely with Partner Agencies and any reported offences will be dealt with robustly.
"I would like to remind all those who decide to spend time in the countryside to please leave it in the clean and tidy state you would expect to find it. It is each individual's responsibility to do their part to keep Angus tidy and to take all their belongings and waste home with them, or dispose of it appropriately. By working together and being responsible, we can all enjoy the outdoors."
Scottish Water, which maintains both bodies of water, is appealing to everyone to ' Look after the loch', and is working with the local community to ensure that they, and the surrounding woodland, remains a pleasant environment for visitors.
Scottish Water employees teamed up with Kirrie Councillor Julie Bell recently for a litter pick around Loch of Lintrathen and discovered a number of dangerously placed fire stones under trees and close to dry vege tation.
Gavin Steel, from Scottish Water said: "We're urging anyone who's planning on visiting or camping near the reservoirs to 'leave no trace' - follow the outdoor access code, avoid lighting fires and ensure they tidy up any litter or human waste.
"These are simple, common sense guidelines to keep the area safe and accessible f o r everyo ne."
The utility company recently joined calls to raise awareness of wildfire risks to prevent damage and help protect the environment and water supplies.
Advice on respecting reservoirs and com plying with the Scottish Outdoor Access Code can be found on the Scottish Water website.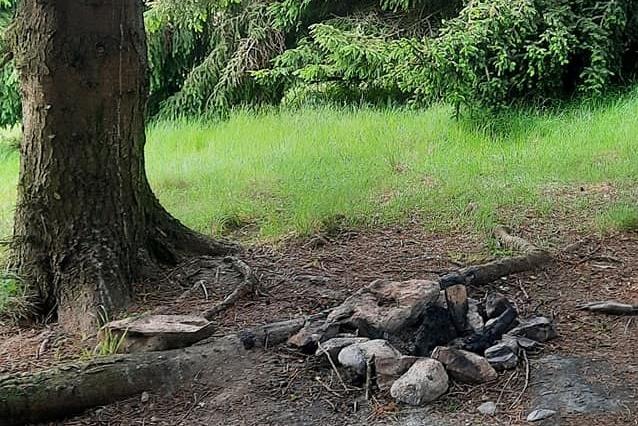 The remnants of a fire sited dangerously at Backwater.