We're in an unprecedented age whereby fuel prices have rocketed and people are understandably reluctant to switch on the oven to cook something small, and inevitably comparing cooking costs with the various options at our disposal these days.
Microwave? Slow cooker? Both great low-cost options, but sometimes you need something that delivers both a crisp outer edge and a soft inside, which those unfortunately cannot do.
So the advent of air fryers has been a godsend, particularly given that these also deliver a health benefit reducing a large percentage of fat contained in food as well as the amount of oil needed (if at all) for cooking.
The advantage that the oven still holds over the air fryer is the size - the amount of food you can cook all at once. Not any longer.
We parked our trusty five-litre capacity air fryer to one side to try out Proscenic's new T31 digital air fryer oven, with a15-litre capacity and 12 presets at our disposal. The presets are really handy for the most obvious items you're likely to use it for, including chips, chicken, pizza, fish, vegetables and even cakes!
The T31 features TurboAir technology, which is seven times more effective than normal air circulation technology and can cook for up to five people, reducing the energy costs of a standard oven and reducing 85% of fat contained in food as well as 90% of oil needed for cooking food.
Its 1700W engine makes sure that food never burns when cooking and the 360° air circulation heats food evenly so that it is both tender on the inside and crisp on the outside. Making dinner time simple, the air fryer increases cooking efficiency by 30% whilst keeping the nutrients in ingredients for a hassle-free and healthier experience.
Two cooking trays, along with a drip tray, allow for multiple dishes to be cooked at the same time, and there's even a rotisserie option to cook a full chicken.
As well as the 12 present programs included, there is also the option to use functions such as Preheat, Pre-select and Keep warm for extra convenience. Users are able to choose up to three settings depending on the needs and can easily adjust the timer and temperature setting using the rotary knob.
What I especially liked was the fact that, with the clear glass front and internal light you can see your food cooking, like in a microwave or conventional oven, which is new to the air fryer sector.
The T31 can also be controlled through the Proscenic app including preheating and heat insulation in up to three steps. Through the app, users also have access to over 100 recipes online as well as having the option to upload personal recipes and access recipes from other Proscenic users meaning that there is a bank of meals that can be made easily – perfect for anyone new to air frying.
You could also prepare and leave the food in the oven, and then while out, set the T31 to cook via the app so that the food is ready when you return. Setting up the wifi connection is relatively easy, and instructions are included.
At the time of writing we were very happy with potato products cooked, including bought chips as well as our own home-made wedges, with just a minimal sprinking of oil to help facilitate cooking.
Results were crispy outsides and fluffy interiors, and the same went for jackets and air-fried veg like sweet potatoes and peppers. At the time of writing I'm still to try the full chicken option and I have to admit it may be a long time down the line before I bake my own buns. Ahem.
Designed to be easy to clean, the T31 basket is made of food-safe materials, free of BPA and PFOA. The non-stick Teflon that it is covered in can also be cleaned in the dishwasher to really save time for users.
Coming with plenty of accessories, the T31 air fryer oven helps users to cook easily with a skewer, rotisserie basket, rotisserie tongs, drip pan, rotisserie fork and two cooking trays all included.
The T31 basket is made of food-safe materials, free of BPA and PFOA and the non-stick Teflon coating means the trays can also be cleaned in the dishwasher to really save time for users.
The Proscenic T31 air fryer oven is available now on Amazon UK for just £149 with a 10 percent discount and a £30 launch discount coupon available. Original RRP is £199.99.
Hasta la pizza, baby.
Proscenic T31 Air Fryer Oven Facts
Product dimensions: 41D x 39W x 34H centimetres
Colour: Black
Capacity: 15 litres
Power / Wattage: 1700 watts
What's In The Box?
T31 Air Fryer Oven
Accessories: Skewer, rotisserie basket, rotisserie tongs, drip pan, rotisserie fork and two cooking trays
Manual
Recipe Book
Quick wi-fi set-up guide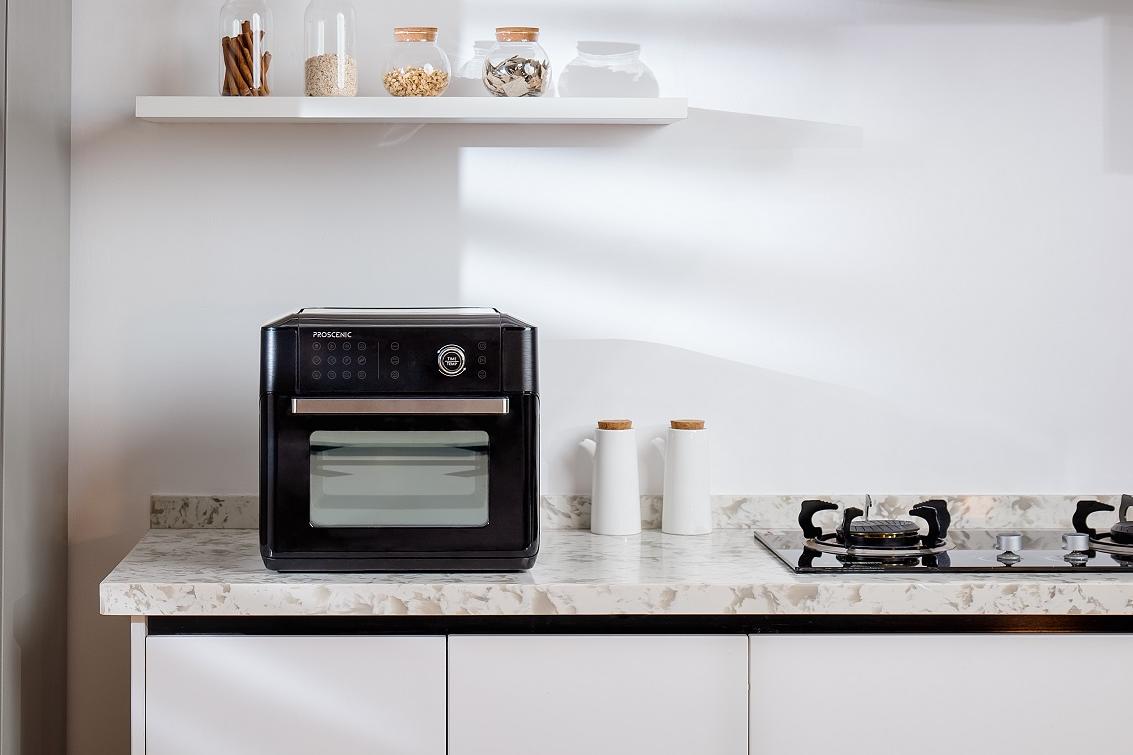 The Proscenic T31 Air Fryer Oven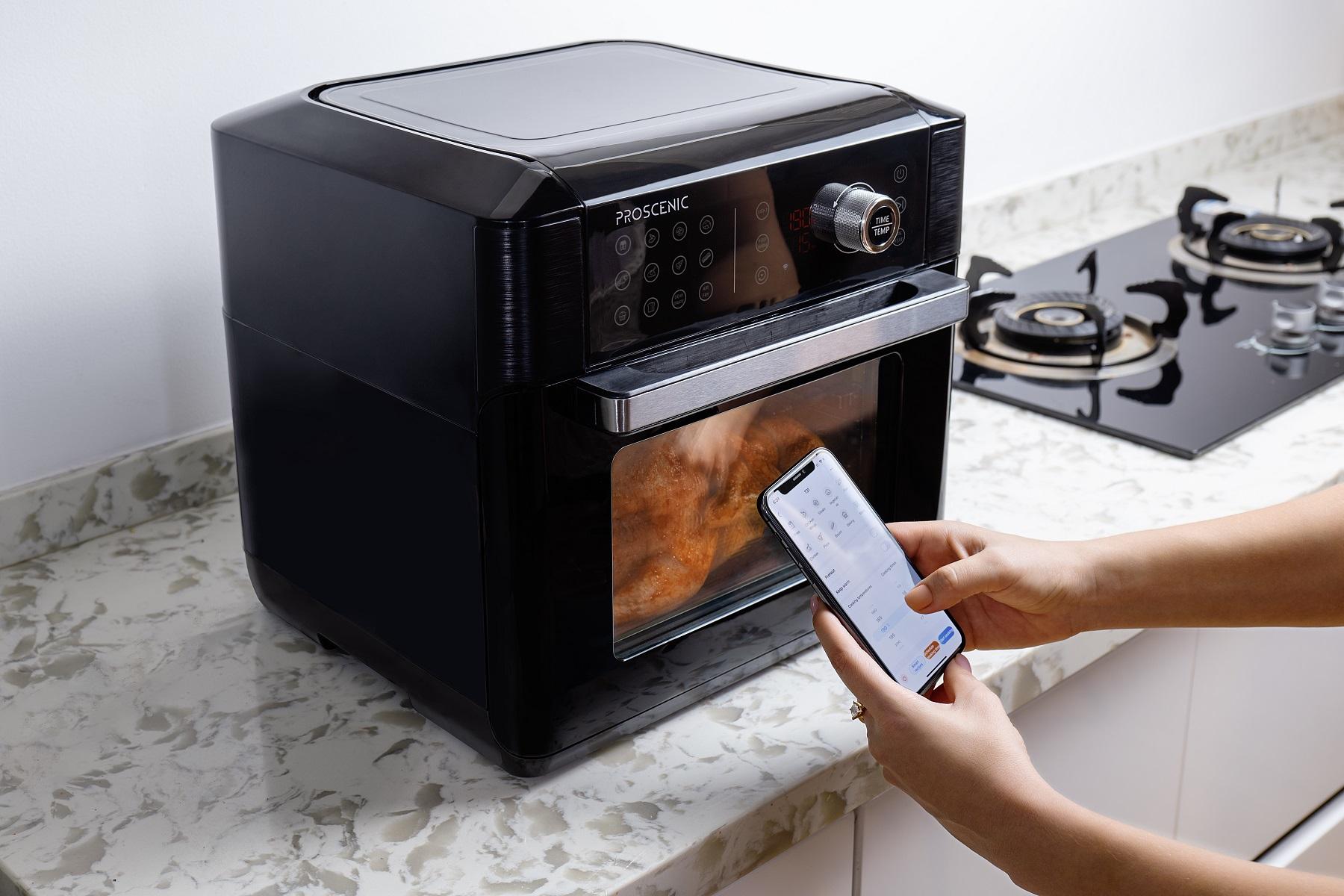 The T31 can be controlled by wi-fi and via a handy app with lots of built-in recipes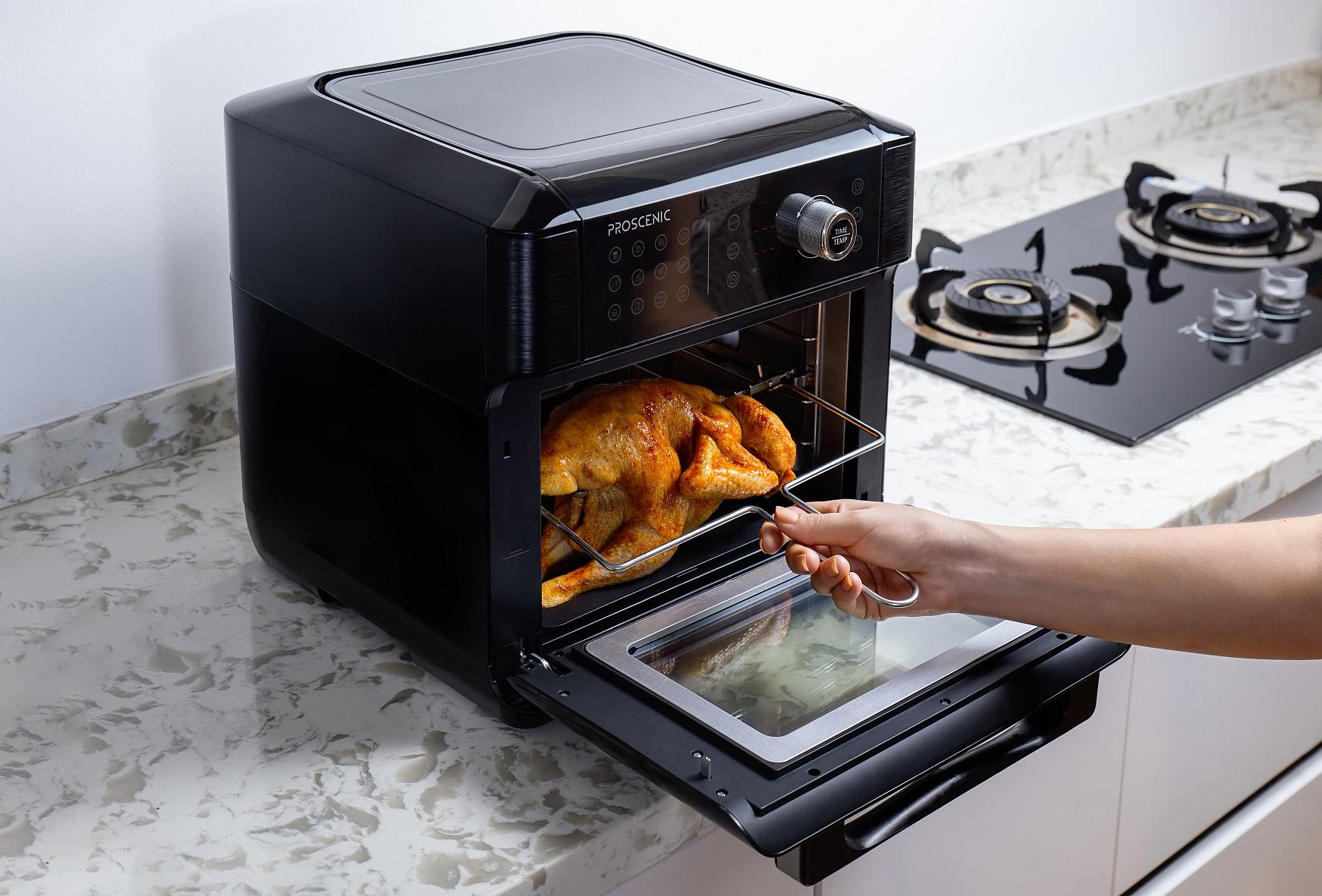 Cooking a rotisserie chicken in the T31
As well as the app, a book containing over 100 recipes is provided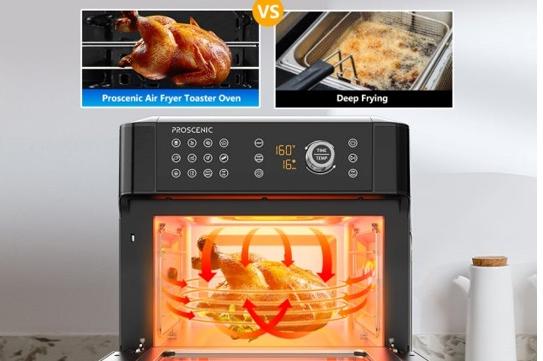 Heated by 360 degrees air circulation, the T31 makes food crunchy on the outside, and tender on the inside with 85% less fat intake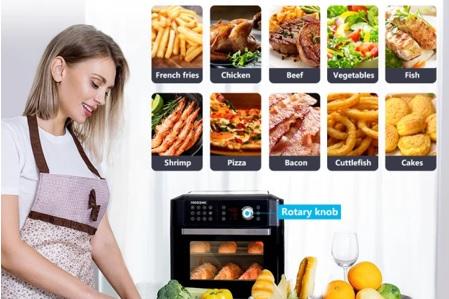 The T31 has 12 cooking presets on the front along with preheat and keep warm functions