Religious significance aside, it's also a time when parents up and down the country have to find ways of entertaining the kids during the school holidays. Easter has become a popular (and expensive) window for families to take a spring break overseas but not everyone is lucky enough to be jetting off to sunnier climes to celebrate the risen Lord.
With a little imagination and some Google research, you'll find plenty of fun things you can do at home over the holidays if the Spanish Costas are not on the agenda.
Here are some suggestions to get you started…
You'll probably be aware of much of what's going on in and around Angus over Easter, but you should definitely have a look on the ANGUSAlive website. The Easter holiday programme is jam-packed with loads of fun stuff to do. The Easter schedule includes adventure, craft, movies, sport, wildlife, and water sport activities so there's bound to be something to appeal to even the fussiest of youngsters.
For movie lovers, there's the chance to enjoy a classic feel-good film which is being shown at The Webster. Grab a couple of pals and settle in for some great viewing. Easter Parade starring Judy Garland and Fred Astaire will be shown at 1:30pm on Monday, 11 April. For the kids there will be a screening of The Dog who Saved Easter on the same day at 6pm.
To book visit www.angusalive.scot
It's also full steam ahead at the Caledonian Railway this Easter. Why not board The Easter Eggspress with all the family for a great day out on April 16 or 17. To book tickets visit
https://caledonianrailway.com
Better be quick though as tickets are selling fast.
It's not just the kids that get to enjoy the holidays, there's some great stuff happening for the grown-ups too. If you're still looking for inspiration on how to spend Easter weekend, look no further. If chocolate eggs aren't really your bag and you'd rather drink the calories (please drink responsibly) – then an afternoon at The Bothy Experience could be just the ticket. Gin Bothy are holding an Easter afternoon gin tea which includes a Gin Fizz on arrival and three further Gin Bothy gins plus a delicious selection of treats. Over 18s only.
To book your place go to www.ginbothy.co.uk
It's great to be able to go out socialising again now that restrictions have eased and we have the option to do things we couldn't during lockdown. However, maybe you have been so busy with work recently that you just want to chill out and stay at home. If you're going to be spending time around the house over the holidays, why not spruce it up a bit with some fun, Easter décor? I love decorating my home for seasonal occasions and Easter is no exception. It's so easy to pick up inexpensive little bits and pieces that can give the house a wee facelift.
I don't need much encouragement but special times like Christmas and Easter are big deals for me. I've noticed there's so much more cool stuff in the shops these days for just about every occasion. More importantly, you don't have to break the bank to get your hands on them either. I love places like Hobbycraft, The Range and B&M Bargains for gathering up decorative odds and ends. And if all else fails, I can usually find what I'm looking for on Amazon!
Pick up some Easter egg hanging baubles to drape from either indoor or outdoor plants. Or you could pick up a table-top decorative twig tree to hang them from. This would make a cracking centrepiece for your Easter Sunday lunch. You don't need to go all out on the decorating - simply just dot some yellow coloured candles around the house. A few bunches of spring flowers such as daffodils will brighten the place up no end too.
Or, if you feel like getting creative, you can always make some Easter decorations instead. Better still, rope the kids in too. I know teenagers will probably scoff at the mere suggestion of such activities but if you have wee ones, they'll be more up for it. I used to love making easter bonnets and painting hard boiled eggs when I was young. The idea of getting covered in glitter or making a mess with paints will have them at the kitchen table in no time. If getting your hands dirty isn't for you, there's a beautiful selection of Easter decorations and gifts on Not on the High Street. I probably spent way too long on that website today!
https://www.notonthehighstreet.com/easter
And if you just want to laze around scoffing hot cross buns and Mini Eggs, you'll find no judgement here.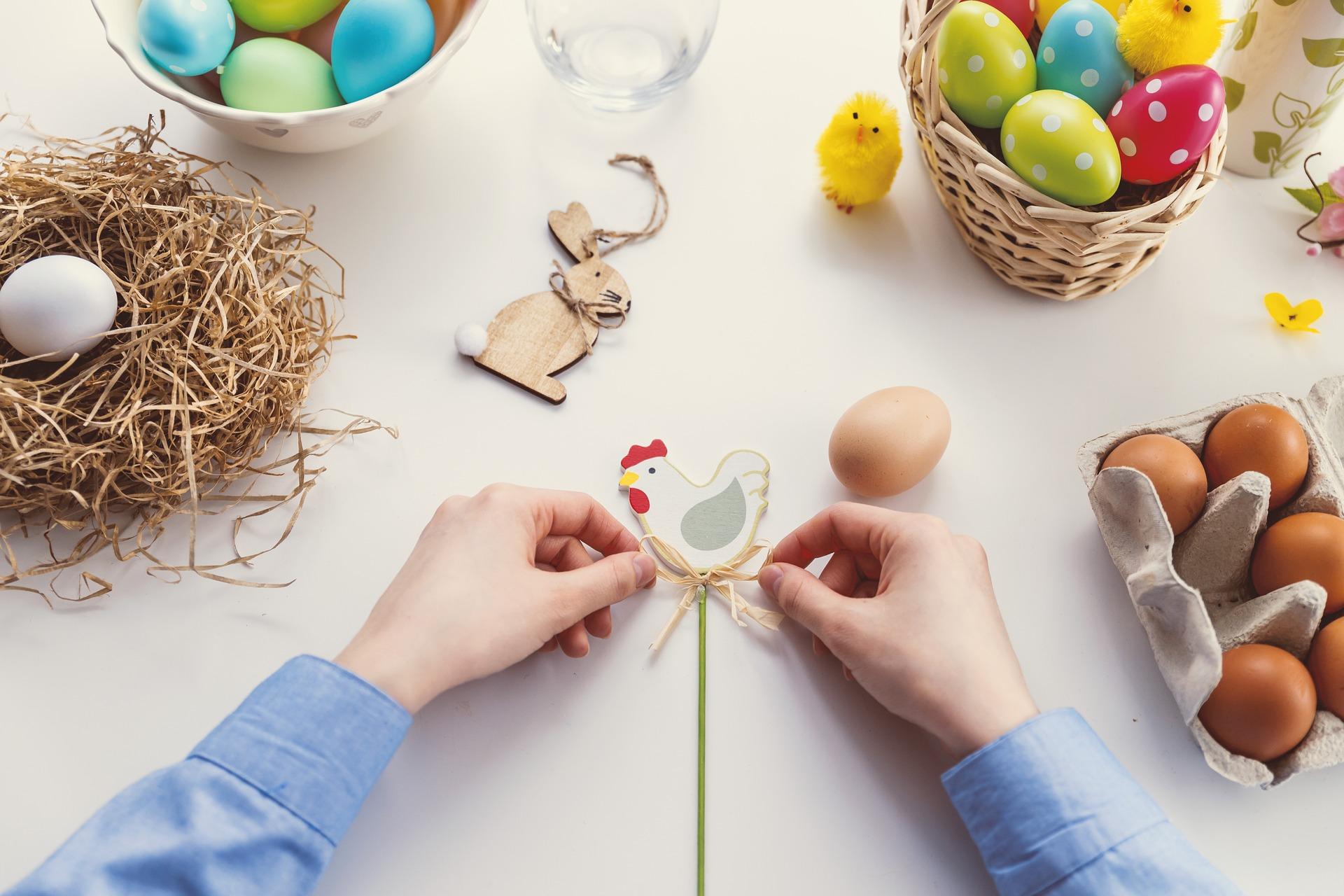 Traditional arts and crafts can be fun for younger kids.