However, I'm ashamed to say that I haven't seen as much of Scotland as I should have. Choosing where to take a holiday is about a lot of things for me but often the lure of better weather in sunnier climes makes the decision for me.
Last week I had the chance to visit Skye - an island I'd often thought about going to but never really got around to doing it. After a long but pleasant drive, my first Scottish island adventure was finally underway.
I was booked on a Skyefari 4x4 Wildlife Tour and travelled around in the company of expert tour guides. The focus of the tour is to try and spot the 'Skye Five' – golden eagles, white-tailed eagles, red deer, otters, and seals. Chances are you'll see a few more species along the way too. On the tour you'll be given fascinating, in-depth commentary from the guides who left me awestruck by their encyclopaedic knowledge of the island and its wildlife. I was taken off the beaten track to secret spots that I might otherwise not have found under my own steam. These guys know all the best vantage points and hidden areas that will give you the best chance of seeing what you came for.
Another impressive feature of this company is that it doesn't take big parties out. You can book a private tour for up to eight people, but they excel at providing bespoke, intimate tours for couples or single guests. If you decide to book one, you can be assured of a very personal approach as Paul and David like chatting to their guests, getting to know them so they can offer the best possible experience on the trip. I learned so much from them in terms of the animals, but I also enjoyed the wonderful conversations we had in between my nature lessons. By the end of my tour, we had covered many topics and exchanged a lot of funny stories. We started off as polite strangers, but I got off the minibus feeling I had made new friends.
On the trip I had the privilege of trying out some top-drawer Swarovski binoculars for spotting and admiring the island's wildlife.
Austrian manufacturer Swarovski make high-end, optical performance products that enhance the visual experience for even the most discerning nature lovers, hunters, and birdwatchers.
So, kitted out with my fancy equipment, I was ready to see Skye through a lens.
I was lucky enough to try two different models and even with my eagle-eyed vision, it simply would not have been the same experience had I not been using this mind-blowing kit from Swarovski Optik.
Being a complete novice to outdoor pursuits, I started off with the CL Pocket model.
These small, light foldable binoculars were easy to use and a comfortable fit for my hands and produced brilliant clarity of what I was looking at (at this point it was a gorgeous wee seal on a rock some distance away).
Just when I thought the magnificent view down the lens couldn't get any better, I was given another set to try – the NL Pure 32. The precision and clarity were off the chart, and I didn't want to put them down. If only my specs were made of the same stuff!
It was with these binoculars that I was able to watch a far-off herd of deer and keep track of a golden eagle that was circling the sky above.
It was hard to believe that someone like me who has no real experience of the great outdoors was suddenly turning into an avid twitcher.
Normally I'd have been desperate to hit the shops for retail therapy or find a live theatre performance to indulge in but here I was, hooked on watching this mighty bird from the roadside. I was wishing I'd had a set of these when I was at the top of the Rockefeller Centre in New York, and they certainly made my wildlife safari an unforgettable experience.
Eagles, seals, and amazing binoculars aside, something else happened along the way. As I've mentioned earlier, I'm probably the last person who would book this sort of trip as my first choice of short break.
You could say I'm more of a culture vulture than a birdwatcher. I didn't even have the right clothes for the trip! I had to improvise with what I had and nothing in my wardrobe was exactly wildlife safari chic. I felt a little out of my depth as my other travelling companions were far more experienced adventurers and seemed to take the trip in their stride with effortless flair.
For me, it was a real departure from my usual holiday preferences. I'm a very experienced traveller but you'll usually find me in the bustling cities of Europe or the USA. And I'm more likely to be found in an opera house than out in the wild playing hide and seek with otters.
However, I was seduced by my surroundings and the chance to try something new. It might sound silly but there was a point on the tour where I felt quite emotional. I think it was down to coming face to face with things that scare me or make me feel uneasy. I'm slightly afraid of most animals, I don't travel well on the road unless I'm driving or at the very least in the front seat, and the thought of hill-walking gives me the fear. Yet, here I was travelling around the most rugged terrain (and some very bumpy twisty roads), in hot pursuit of wildlife and about to walk up part of some rather mighty hills!
As my companions and tour guides walked on in front, I was lagging behind and wondered if I'd ever catch up with them. Moreover, I was in awe of the sheer scale of what was in front of me. Anyway, I pulled myself together and managed to navigate the craggy path up to join my group. I was rewarded with the sight of a white-tailed eagle. Thanks to the Swarovski spotting scope our guide was using, I was able to catch a glimpse of it in its nest way off in the distance. Not only that, another one flew overhead and perched itself on a faraway rock which I was able to watch through the binoculars. I didn't stop to think about how I was getting back down this hill, all I could think of was what else was I going to witness through these binoculars. Changed days indeed.
Drama averted; we were soon on our way back to base. For the next couple of days I'd be laying my hat at the award-winning Duisdale House Hotel on Skye's southern Sleat peninsula.
This charming and super comfortable hotel is one of three stylish boutique hotels on the island that belong to the Sonas Hotel Collection. I was welcomed with genuine Scottish hospitality at its very best. Coupled with first class dining and a beautifully appointed room, this hotel was a real gem.
I enjoyed two delicious dinners in the hotel's 2 AA Rosette restaurant which uses the best local produce in their tempting menu. Using the finest of ingredients, the menu changes daily and is accompanied by an impressive wine list that also made my mouth water. The hotel's Chart Room bar serves a wide range of local gins and whiskies and it's a cosy spot for a pre or post dinner drink.
I don't know if it was the bed, the pillows, the beautiful food, and wine or all the fresh air but I had the first decent night's sleep in a long time.
As a regular mini breaker, I stay in a lot of hotels often just for a night or two and it's always a good sign when you feel like you've been away for much longer. Such was my experience at Duisdale House Hotel, I felt like I'd been here for a week.
Despite my busy days spent out on the wildlife safari, when I was back at the hotel, the tempo dropped to a much slower pace. Nothing is too much trouble for any of the staff here and you simply cannot help but adopt the leisurely, laid-back vibe of this delightful place.
The trip flew past in a flurry of activity and all too soon I was packed and ready to head home. There was one last treat in store before I waved goodbye to the island. I assumed we would be travelling back over the bridge to the mainland but for our return journey we crossed the water in the Glenelg-Skye ferry. This charming ferry boat is the last manually operated turntable ferry in the world and transports cars between Glenelg and Kylerhea – the shortest point between the mainland and Skye.
Visitors come from all over the world to encounter the 'Glenachulish'. It was only a short trip but so memorable. If it hadn't been for the flashy, modern vehicles onboard to remind me it was 2022, it was as if time had stood still. I felt like I'd witnessed a little bit of nautical history.
It was such a wonderfully authentic experience and it was fitting that I ended my island adventure this way.
This trip was indeed an experience and I'm so glad I went. Sometimes we need to open our eyes and our minds to new things.
You never know when an adventure will come along where you don't even need your passport. Maybe next time I'll be better prepared, and I really hope to do it again. Skye, will you have me back again soon, please?
Info:
The folding, compact SWAROVSKI OPTIK CL Pocket 8 x 25 binocular is available from the Swarovski Optik website. The CL Pocket is available in green and anthracite and comes with a Wild Nature or Mountain accessory pack including carrying strap, field bag and eyepiece cover. All the other binoculars and scopes Deborah tried are also available to buy online. For further details and prices visit www.swarovskioptik.com
A full day exploring the wildlife hotspots of the Isle of Skye away from the crowds with SKYEFARI costs from £90 to £150 per person for 2 to 8 guests as a private tour. Advance booking is essential by phone at 07871 463755 or via info@skyefari.com. Full details at www.skyefari.com.
A double room at the Duisdale Hotel including full Scottish breakfast costs from £289 per night in April, from £219 per night in winter and from £389 per night in summer. Rates are based on two people sharing. To book or for further details, visit https://skyehotel.co.uk/duisdale/.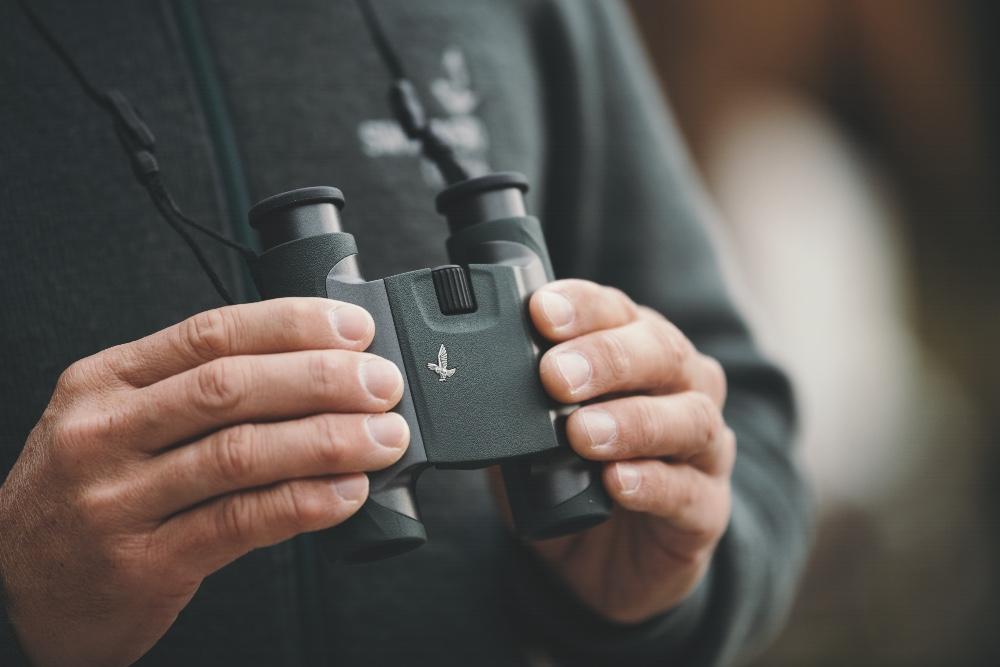 Life through a lens...Swarovski's powerful binoculars made for an unforgettable experience.