When I was in my heyday, sunbeds were a fairly new thing. I was about 18 and I hired a tanning canopy which became my entire life. Every spare moment was spent under that thing. I was bronzed to perfection, and I thought I looked fantastic. These were the vanity issues of the time, and everyone was doing it. Did we know the risks? Maybe. Was there the same level of awareness? I'd argue that there wasn't but like most things that are bad for us, we sometimes do it anyway because they make us feel good.
I was just as careless out in natural sunlight. I remember holidays that were spent frying all day under intense Mediterranean or Caribbean sunshine. Was I wearing a high factor sun block? Absolutely not. I was usually covered in some sort of tan enhancing oil with a protection factor of about two! I didn't think about the consequences. I was so vain, and that golden tan was almost the sole purpose of going abroad. Today, as a regular travel writer who loves exploring the cultural attractions of the place I'm visiting, I must have missed out on so much. Lying on a lounger all day cooking my skin – and for what? The thought of spending a holiday like that these days doesn't appeal to me at all. I look back on those holidays with regret, but I'll have to chalk it up to the folly of youth.
Fast forward twenty years or so and I changed my tune. Having now had one mole removed from my neck and another on my stomach investigated by a consultant dermatologist (and still under surveillance), I am aware of the risks from too much exposure to the sun. I'm lucky and truly grateful that I haven't suffered harsher consequences but that's not to say that I won't. The damage can often happen years before a cancer develops. The outcome could have been far worse and for some people it is. All I can do is hope and pray that my new-found awareness and vigilance will help prevent any further damage.
I was also more cautious when I became a mother. I took my son on holiday from a very tender age but I was obsessed with keeping him covered up in the sun. I was laden with stock piles of the highest possible factor of sunscreen. Sure, he wailed in protest and fidgeted all the time I was applying it, but a few tears were a small price to pay for making sure he was protected from the sun's harmful rays. I also covered myself in the stuff. Nowadays as well as protecting myself from the risks of skin cancer, I am acutely aware of the ageing effects of the sun and now that I'm a little older, I am keen to preserve my skin as best I can so there's two good reasons to make the effort.
With May being Skin Cancer Awareness month, we should all take time to be more vigilant about our risk levels. We're coming into the summer months and likely to be outdoors more as the weather improves.
There are things you can do to minimise your risks and stay safe in the sun. Cover up as much of your skin as possible - clothing as your first line of defence. Pay special attention to your shoulders which burn easily. Consider wearing hats and T shirts even when in the water - especially important for kids and anyone who tends to burn easily. Invest in good quality sunglasses with lenses that filter out the UV rays SPF 30 plus sunscreen is a must. Apply liberally to all areas of exposed skin and do this 20 minutes or so before going outside. Re-apply at regular intervals and a waterproof version is best. Stay in the shade as much as possible – especially between 11am and 3pm when the sun is at its strongest. You can still have fun in the sun but just stay safe and be aware of how powerful it can be.
For everything you need to know visit www.cancerresearchuk.org for an informative guide to the risks and causes of skin cancer. You can also read about the stages and grades as well as seeing pictures of what different types of skin cancer might look like. These are helpful when comparing any suspicious looking moles or lesions on your skin. Even if yours don't match, if you're worried about anything go and have your GP check it over. it's that simple. Ignoring it is not the answer. It's better to have it assessed by a medical professional as early detection and diagnosis is vital.
I check my skin regularly and I take pictures of any moles that are likely to cause concern. By the way I still love looking bronzed but these days it's more likely to come out of a bottle. Fake it – it's a lot safer and your skin will thank you for it in the long run.
There's also more information on www.nhsinform.scot or www.britishskinfoundation.org.uk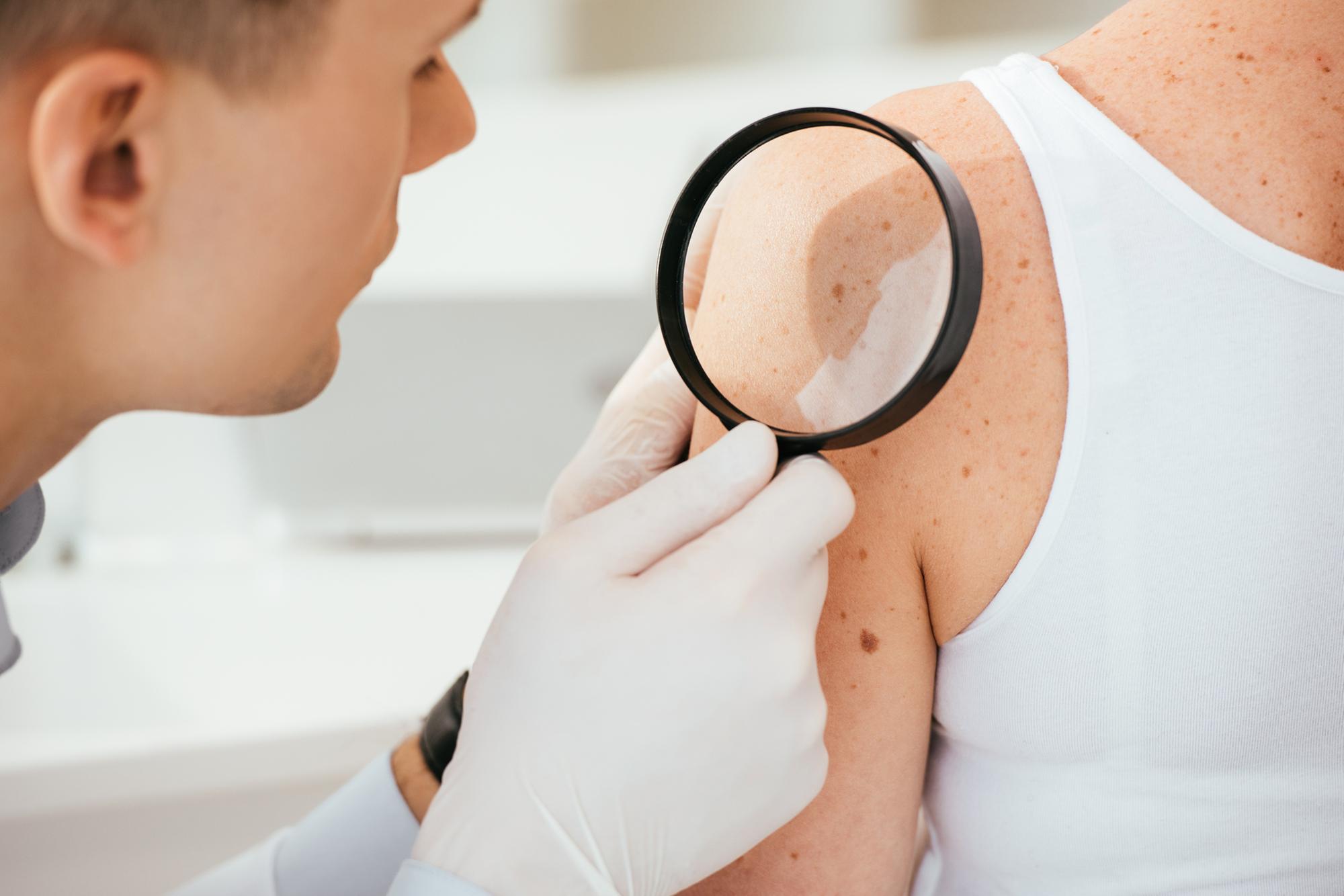 It's important to get any suspicious moles or lesions checked by your GP as early as possible.